BIO
Maddie Dearman graduated from Louisiana Tech University in May 2020, achieving a BFA in both Graphic Design and Studio Art.
During her time at Louisiana Tech University, Maddie found her true passion through making art: spreading the good news of the death and resurrection of Jesus Christ. Maddie has received numerous opportunities to learn more about Jesus and share this good news with her community, such as being featured in LATech's cultural publication, The Quatrain: IV as well as the 318 Creative's Podcast. The Louisiana Tech VISTA program also recently published her illustrations and design work in a children's book, The Journey of a Stem Cell, which led to the birth of a new Louisiana Tech legacy: The Journey Books Series. In association with the VISTA program, Maddie was given the opportunity to speak about the value artists can bring to any business or project on KTBS News in April 2019, as well as KTVE News in January 2020 about her experience creating The Journey of a Stem Cell book. Maddie's art has also appeared in the Louisiana Tech Annual School of Design Student Show 2018-2020, as well as the Downtown Monroe Art Crawl in February 2020.
Since graduation, she has devoted her time to deeply study the Scriptures, walk with the Lord in prayer, and grow her spiritual gifts each day in preparation for dedicating her life and work to further the message of the gospel. It is her ultimate dream to be a missionary--anywhere that the Lord would send her! In March 2022, she will be launching a Youtube channel, "creator for the Creator," which will serve as an online bible study to share the light of Christ with others around the world.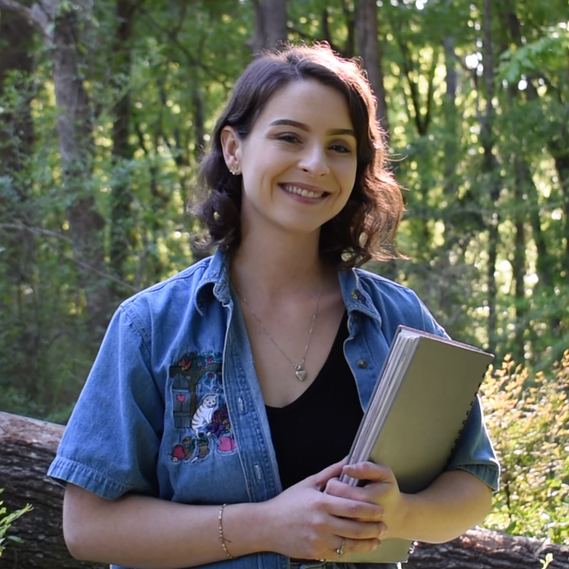 ARTIST STATEMENT
My name is Maddie Dearman, and I am an experiential, evangelical artist from Monroe, Louisiana. The art I create is but the waiter's tray on which the good news of the gospel message is continuously being served upon; it is a message of the eternal hope we have in Jesus Christ. My work includes large-scale murals, interactive pop-up experiences, installations, mixed-media sculpture and collage, as well as illustration, graphic design, and 2D animation.
My work reveals an inherent human desire and wonder specifically surrounding the person of Jesus Christ and the kingdom of God, craving for humbling perspectives, and the true satisfaction I find in making and sharing this great news with others. The work I make is a direct embodiment of what I am currently learning in my own relationship with the Lord. By working from current lessons, I am offering an open invitation to my viewers to join me in my journey to search for divine wisdom in the footsteps of love.
Expertise
I am especially passionate for color, typography, illustration, writing, and concept design. I also enjoy collaborative works and have gained experience working in teams with marketing, computer science, and medical professionals.
Graphic design expertise: digital painting, illustration, 2D animation, branding, web design, UI/UX design, campaign design.
Adobe Bridge, Photoshop, PremierePro, Illustrator, InDesign, AfterEffects, XD, Acrobat.
Studio expertise: creative design, conceptual design, storyboard design, experiential design, sculpture, installation, large-scale murals, woodcarving + basic shop skills, prop design, mixed media collage (digital + analog).
Interests
I believe that the Creator of the universe created me to create art that speaks of His good news. My favorite thing to do in my free time is to share that good news with others: through art, through my testimony, and/or through everyday actions.
The work I make is 99% research and 1% art. I am constantly reading, researching, and meditating on the story of the Bible. The Bible gives me the ability to see past myself and my circumstances, and inspires me to make art that has the potential to impact + challenge myself and this generation to "come and see" the great hope we have in our Lord Jesus Christ.